HINT: We hear EVERYTHING about the "Me Too Movement," but we hear next to NOTHING about the most innocent of voices — that of exploited and abused children, many of whom are minorities!
I wonder why?
WARNING: This editorial includes discussion of topics that are sexually graphic. Under usual circumstances, we would never entertain these subjects or the rancid language involved. In this case, however, a very unusual exception must be made because the issues are central to the background of a senior presidential appointee at the U.S. Department of Education who is in a position to influence how and what our children are taught in our nation's schools. Thus far, out of fear or squeamishness, there has been public hesitance to examine closely the beliefs of this individual because many are afraid even to touch the risky content. Our scruples cannot be used against us when traditional moral precepts need to be defended. Simply, the deep level of depravity involved in this subject cannot be portrayed without providing a couple of examples to illustrate the inappropriate content. Please do not read any further if you will be offended by sexually graphic language.
The following are excerpts from the article……
"The Obama administration is stonewalling serious inquiries about sexual filth propagated by a senior presidential appointee who is responsible for promoting and implementing federal education policy. Democrats clearly are terrified of ruffling the feathers of their activist homosexual supporters, who are an influential part of the Democratic party's base. This scandal, however, is not merely about homosexual behavior; it is about promoting sex between children and adults – and it's time for President Obama to make clear that abetting such illegal perversion has no place in his administration."
"But there is more. There are shocking new revelations this week of tape recordings from a youth conference involving 14-year-old students. The conference, billed as a forum to encourage tolerance of homosexuality, was sponsored by Mr. Jennings' organization and was held at Tufts University in March 2000. Mr. Jennings was executive director of the Gay, Lesbian and Straight Education Network (GLSEN) from its founding in 1995 until August 2008. The conference sessions appear to have had less to do with promoting tolerance and more to do with teaching children how to engage in sex."
"The conference discussions were very graphic and cannot be relayed in full detail in a family newspaper. A few examples are sufficient to describe the depravity of the subject matter. During one session about oral sex, a presenter asked the 14-year-old students: "Spit or swallow? Is it rude?" In another session, the 14-year-olds are taught about a gross practice called "fisting," in which "the man leading the discussion position[ed] his hand and show[ed] 14-year-olds how to insert their entire hand into the rectum of their sex partner."
And….why were NO other mainstream news agencies reporting this disturbing story?
This should make ALL of us wonder what else "they" are covering up!?
And now this very recent and disturbing story……………
Also…..why would police and other Government Agencies in Amalia,  New Mexico, release five suspects–some of whom are illegal immigrants— accused of abusing eleven children in a New Mexico compound where the remains of a young boy were also found in a hidden tunnel?
And, equally disturbing and perplexing, why would these same authorities subsequently destroy or demolish the compound before all forensic and scientific analysis and evidence could be gleaned?
Question:  What is going on in America for this to occur?
Is it possible authorities are HIDING something from the public?
You decide…………..?
"Four of the five suspects are expected to be released with GPS monitoring today — a turn of events in a case that has focused on allegations of starving children being taught to carry out school shootings."
Here we go again………….
The New Mexico case is eerily similar to how city, state and federal authorities handled another child-abuse case back in 1987 in, Tallahassee, Florida, where two men in business suits were taken into custody after they were found with six dirty and disheveled children at a park only to be released by authorities within days of their arrest and against many investigators' wishes.  The two men were identified as members of a cult called the Finders.
Here are excerpts from an article in: Special To The New York Times, Author: Richard Halloran, Dated: 1987
INQUIRY SPREADS ON 6 CHILDREN AND CULT
"Police officials here said today that six disheveled children found in Tallahassee, Fla., might be the offspring of members of a little-known cult, but the officials said they had not ruled out the possibility of kidnapping."
"Capt. William White 3d, a spokesman for the District of Columbia Police Department, said, "At this point, it appears that those children are the children of members of this group." He was referring to members of a cult known as the Finders, who have occupied at least two buildings here."
"He declined to speculate on what the possibilities might be but other police officials said they included kidnapping or some type of international market for children."
"The children, two girls and four boys 2 to 7 years old, were discovered in a Tallahassee playground on Thursday. Two men, Douglas Edward Zimmerman, 27 years old, and Michael Houlihan, 28, were arrested in the case and charged with child abuse."
"The children, who had not been bathed in several days when they were found, had insect bites and had not been fed in more than a day. Investigators said the children appeared to be ignorant of such daily conveniences as hot water and electricity."
And this, too, regarding the Finders………………..
Your News Wire, November 17, 2014, Author: Royce Christyn
"Who are these suspicious men, and what were they doing with 6 undocumented children, transporting them across the country? Two children who were with the Tallahassee men were found to show signs of sexual abuse.2 The Finders had long been a topic of discussion for locals, who were naturally fascinated with the cult that lived amongst them. The Washington City Paper once described the Finders as such:
"In appearance, the Finders—mostly middle-aged men, always in dark suits—wouldn't be out of place managing a local funeral home. But the behavior of the handful of adherents has people wondering whether they arrived by flying saucer. Townspeople say the Finders constantly walk the streets, following people home and taking extensive notes and pictures. They often appear at local council meetings, never saying a word but simply observing the scene. At other times, they plunder the visitor's center of brochures, maps, and local travel guides. And they haunt the courthouse, scouring land deeds to find out who owns the local real estate," -Washington City Paper3
The Washington City Paper goes on to address the shocking specter of the alleged Satanist practices of the cult, with the startling revelation:
"But among all the cryptic inventory, cops found a photo album entitled "The Execution of Henrietta and Igor," a series of snapshots depicting berobed adults and children slaughtering goats in a wintry woodscape. One photo depicted giggling toddlers pulling dead kids from a womb ("Baby goats!" ran the caption); another showed a grinning adult presenting a goat's head to a startled child."4
US News and World Report article states:
"The more the police learned about the Finders, the more bizarre they seemed: There were suggestions of child abuse, Satanism, dealing in pornography and ritualistic animal slaughter. None of the allegations was ever proved, however. The child abuse charges against the two men in Tallahassee were dropped."5
The children were apparently en route to Mexico, to what the children described as a school for 'smart kids'. It was noted in a Customs Report that the children were unable to accurately identify themselves or their custodians, could not identify the purpose of telephones, toilets or televisions, and were only given food 'as a reward'.6
These shocking developments led to a raid on the Finders compound by the U.S. Customs Service. The report produced after the raid is astounding:
"During the execution of the warrant at 3918/20 W Street., I was able to observe and access the entire building. I saw large quantities of childrens clothing and toys. The clothing consisted of diapers and clothes in the toddler to preschool range. No children were found on the premises."
"Cursory examination of the documents revealed detailed instructions for obtaining children for unspecified purposes. The instructions included the impregnation of female members of the community known as the Finders, purchasing children, trading and kidnapping."
"One such telex specifically ordered the purchase of two children in Hong Kong to be arranged through a contact in the Chinese Embassy there. Another telex expressed interest in 'bank secrecy' situations. Other documents identified interests in high-tech transfers to the United Kingdom, numerous properties under control of the Finders, a keen interest in terrorism, explosives and evasion of authorities."
"There was also a set of instructions which appeared to be broadcast via a computer network which advised participants to move 'the children' and to keep them moving through different jurisdictions, and instructions on how to avoid police attention. I was able to observe numerous documents which described explicit sexual conduct between members of the community known as Finders. I also saw a large collection of photographs of unidentified persons. Some of the photographs were nudes, believed to be members of Finders. There were numerous photos of children, some nude, at least one of which was a child 'on display' and appearing to accent the childs genitals."
"One of the officers presented me with a photo album for review. The album contained a series of photos of adults and children dressed in white sheets participating in a 'blood ritual'. The ritual centered around the execution of at least two goats. The photos portrayed the execution, disembowelment and dismemberment of the goats at the hands of the children. This included the removal of the testes of the male goat, the discovery of the female goats 'womb' and the 'baby goats' inside the womb, and the presentation of the goat head to one of the children."
"The warehouse contained a large library, two kitchens, a sauna, hot tub, and a 'video room'. The video room seemed to be set up as an indoctrination center. It also appeared that the organization had the capability to produce its own videos. There were what appeared to be training areas for the children and what appeared to be an altar set up in a residential area of the warehouse. Many jars of feces and urine were located in this area." – USCS Report of Investigation Continuation, filed by Special Agent Ramon J. Martinez, March 2, 1987
A follow up report revealed the most shocking detail of the entire Finders case:
"I was advised that all of the passport data had been turned over to the State Department for their investigation. The State Department in turn advised MPD (D.C. Metropolitan Police Department) that all travel and use of passports by the holders of the passports was within the law and no action would be taken. This included travel to Moscow, North Korea and North Vietnam from the late 1950's to the early 1970's.
The individual further advised me of circumstances which indicated that the investigation into the Finders had become a CIA internal matter. The MPD report has been classified and is not available for review. I was advised that the FBI had withdrawn from the investigation several weeks prior and that the FBI Foreign Counter Intelligence Division had directed the MPD not to advise the FBI Washington Field Office of anything that had transpired."8 (Emphasis mine).
After the Finders investigation became a 'CIA internal matter', no action against the Finders was ever taken, and the case has largely faded from public memory. Not everyone was content with the investigation simply 'ending'.
Florida congressman Tom Lewis was quoted as saying:
"'Could our own government have something to do with this Finders organization and turned their backs on these children? That's what all the evidence points to," says Lewis. "And there's a lot of evidence. I can tell you this: We've got a lot of people scrambling, and that wouldn't be happening if there was nothing here.'"9
Digging by the media could only produce one confirmed connection: A firm which operated as a 'front organization' for the CIA providing officers with computer training employed several members of the Finders. The Washington Times reported:
"Other Customs Service documents and records from the FBI and Metropolitan Police provide indications that the CIA had links to the Finders or at least to some of the group's members. A Metropolitan Police document dated Feb. 19, 1987, quotes a CIA agent as confirming that his agency was sending its personnel to "a Finders Corp., Future Enterprises, for training in computer operations."And a later Customs Service report says that the CIA "admitted to owning the Finders organization as a front for a domestic computer training operation but that it had 'gone bad.'"10
The CIA, of course, has denied any connection to the Finders.
1New York Times, "Inquiry Spreads on 6 Children and Cult," February 8, 1987
2Chicago Tribune, "2 Cult Children Show Signs Of Sex Abuse," February 9, 1987
3Washington City Paper, "Finders Keeper," May 24, 1996
4Ibid.
5US News and World Report, "Through a Glass, Very Darkly," December 19, 1993
6USCS report available here.
7Ibid.
8Ibid.
9US News and World Report, "Through a Glass, Very Darkly," December 19, 1993
10The Washington Times, "CIA tied to cult accused of abuse ; Justice probes links to Finders," December 17, 1993
And now this regarding America's ever present and quickening, moral and ethical decline……………
The Following Question Was Posed To Me By A Voter's Organization For The Primary Election:
The incidence of child sexual exploitation has reached staggering proportions," he said at a news conference.
Law enforcement officials said the arrests underscore the importance of families maintaining an open dialogue about Internet safety.
"Parents and kids need to have frank conversations about how to stay safe in cyberspace," Reynolds said.
Children and teens, he said, are spending more time on the Internet and social media sites, where child predators often look for victims.
Congressman Mark DeSaulnier was one of just 25 congressmen who voted NO on HR 1865, the "Allow States and Victims to Fight Online Sex Trafficking Act of 2017." 388 voted YES.
Here's the summary of the bill:
"To amend the Communications Act of 1934 to clarify that section 230 of such Act does not prohibit the enforcement against providers and users of interactive computer services of Federal and State criminal and civil law relating to sexual exploitation of children or sex trafficking, and for other purposes."
Again, why would Mr. DeSaulnier vote against a bill to protect victims of human – and child – sex trafficking?
As your congressman, I will do everything I can to educate my constituents of this horrible crime against young adults and children along with introducing legislation to stop it! It will take your help too, so please vote for me in the upcoming 2018 General Election so we can take our first steps protecting our most vulnerable, our children!
What is human and sex trafficking?
Human trafficking is defined as the commercial sexual exploitation of American children and women, via the internet, strip clubs, escort services, or street prostitution.
Fact: An estimated 100,000 children – girls and boys – are bought and sold for sex in the US each year, with 300,000 more in danger of being trafficked (Source: Herald Tribune).
Fact: Child sex trafficking is the fastest growing criminal business in the U.S.
Fact: Human Trafficking is the fastest growing criminal industry in the world, second ONLY to the Drug Trade.
Fact: According to the FBI's National Crime Information Center (NCIC) that tracks and is interlinked with federal, state, tribal and local agencies and offices, there were 465,676 missing children in 2016, an increase of nearly 5,000 since a year ago.
Fact: In 2017 The National Center for Missing and Exploited Children stated that of the 25,000 runaways reported, one in seven were likely victims of child sex trafficking. Of those, 88% were in the care of social services when they went missing.
Fact: Sex trafficking, especially the buying and selling of young girls, is the fastest growing business in the U.S. in organized crime. (CBS News, Austin)
Fact: Sex trafficking is the second most-lucrative commodity traded illegally, after drugs. (WGBH)
Fact: Children–some as young as 9 years old–are being bought and sold for sex in America. The average age is 13 years old. (DHS)
Fact: Adults purchase children for sex every two minutes, at least 2.5 million times a year in the U.S.
Fact: In Georgia alone, it is estimated that 7,200 (half of them in their 30's) seek to purchase sex with adolescent girls each month, averaging 300 a day. (Source: Former Senator, Nancy Schaefer, report on CPS Corruption.)
A sad reality……
Our society and culture are deteriorating rapidly and the following videos and articles are examples as to why this is happening. From little girls throwing out the "F-Bomb" allegedly for the benefit of "feminism," and "women's rights," to "Transgenders" and  "Drag Queens" in the United Kingdom teaching public school children as young as two-years of age lessons about "acceptance," "inclusiveness," "transgender"  and "gay" lifestyles.
The question begs to be asked: What the hell is going on?
Equally disturbing, is the fact that a well known and talented actor and comedian, John C. Riley, participates in what many cast off as simply a "harmless" and "humorous" skit, yet the spoof appears to imply and depict the acceptance of pedophilic behavior in what can only be described– at the very least— as a very sadistic and troubling video.
Please watch the following video and decide if this is what you consider "humor." It depicts a dirty Children's Day Care Facility where kids are locked up in an upstairs bedroom, fed candy if they behave and threatened with punishment by being locked up in the attic if they don't. The brainchildren of this video and other disturbing videos are Tim Heidecker and Eric Wareheim. The name of their very disturbing show is the The Tim and Eric Awesome Show and they have collaborated many times over the years with their mutual friends: John C. Riley, Will Farrell and Ben Stiller, just to name a few.
Actor John C. Riley in Brown's Day Care…….
The Tim and Eric Awesome Show…….
And this very disturbing picture and subsequent video…………….notice the ping pong balls and pizza theme throughout the video which are codes for pedophilia. Not to mention the fact that the seventy-year-old man, Rodney Bingenheimer, who appears in the video along with his seventeen year-old girlfriend, Dakota, was better known in the 1960s and 1970s as The Uncle Of The Sunset Strip for procuring 13, 14 and 15 year-old girls to many rock stars and Hollywood actors.
And….. Katy Perry's music video with pizza and ping pong themes……..
Yes…. more of Katy Perry and her fascination with PIZZA themes…………
And the following music video from Macaulay Culkin's band, The Pizza Underground:
Seriously, though……WHY ALL the references to PING PONG and PIZZA in Hollywood and the entertainment industry?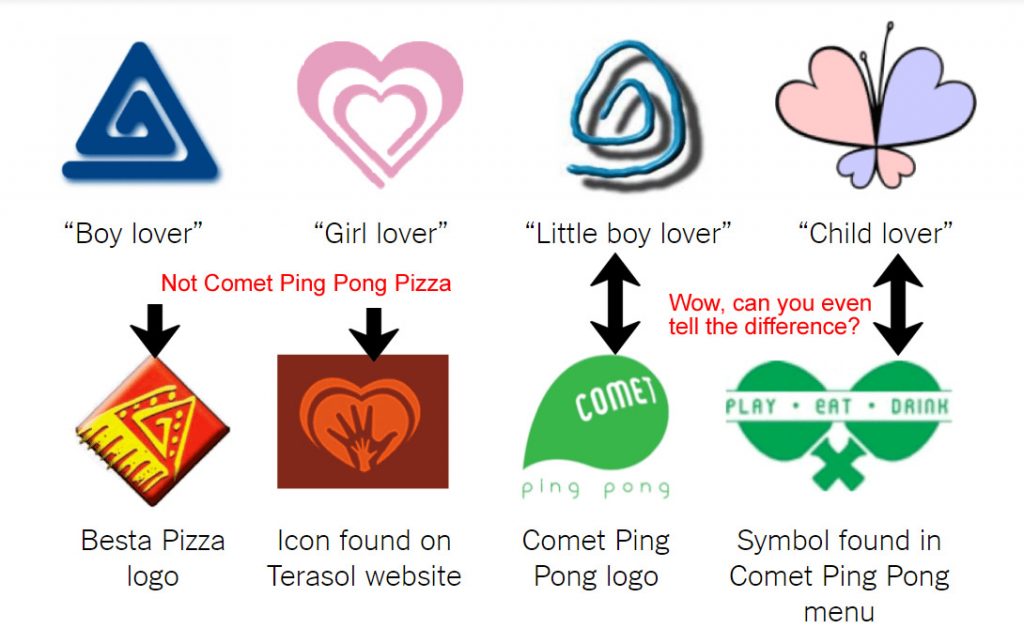 And some large TOY corporations marketing toys with PEDOPHILIC CODES inscribed:
And this…… VERY revealing documentary

exposing Hollywood and the entertainment industry's pedophilic history:
Ironically, the director of this remarkable film, Amy S. Berg, also did a documentary on the child abuse and molestations covered-up by the Catholic Church called: "Deliver Us From Evil, which was lauded and received GREAT mainstream exposure, yet her film about Hollywood's mass child abuse and pedophilia received NO exposure! In fact, she was shunned!
Why the double-standard, huh?
Isn't it interesting the power Hollywood and mainstream news has either promoting or suppressing what they want the public to know or believe?
I Wonder Why………..?
Read, watch and LEARN by looking at the following………….
Allegations of pedophilia against powerful Hollywood icons…………
TOM HANKS IS A PEDOPHILE – VICTIM SPEAKS!
Hollywood actor and comedian, Isaac Kappy, says Tom Hanks, Steven Spielberg, Seth Greene and others are pedophiles…………
BIG LEAGUE POLITICS, Reporter: Haley Kennington, July 20, 2018: 
What does the hotdog and hamburger clock on the wall represent along with the handwritten note Mr. Hanks is holding?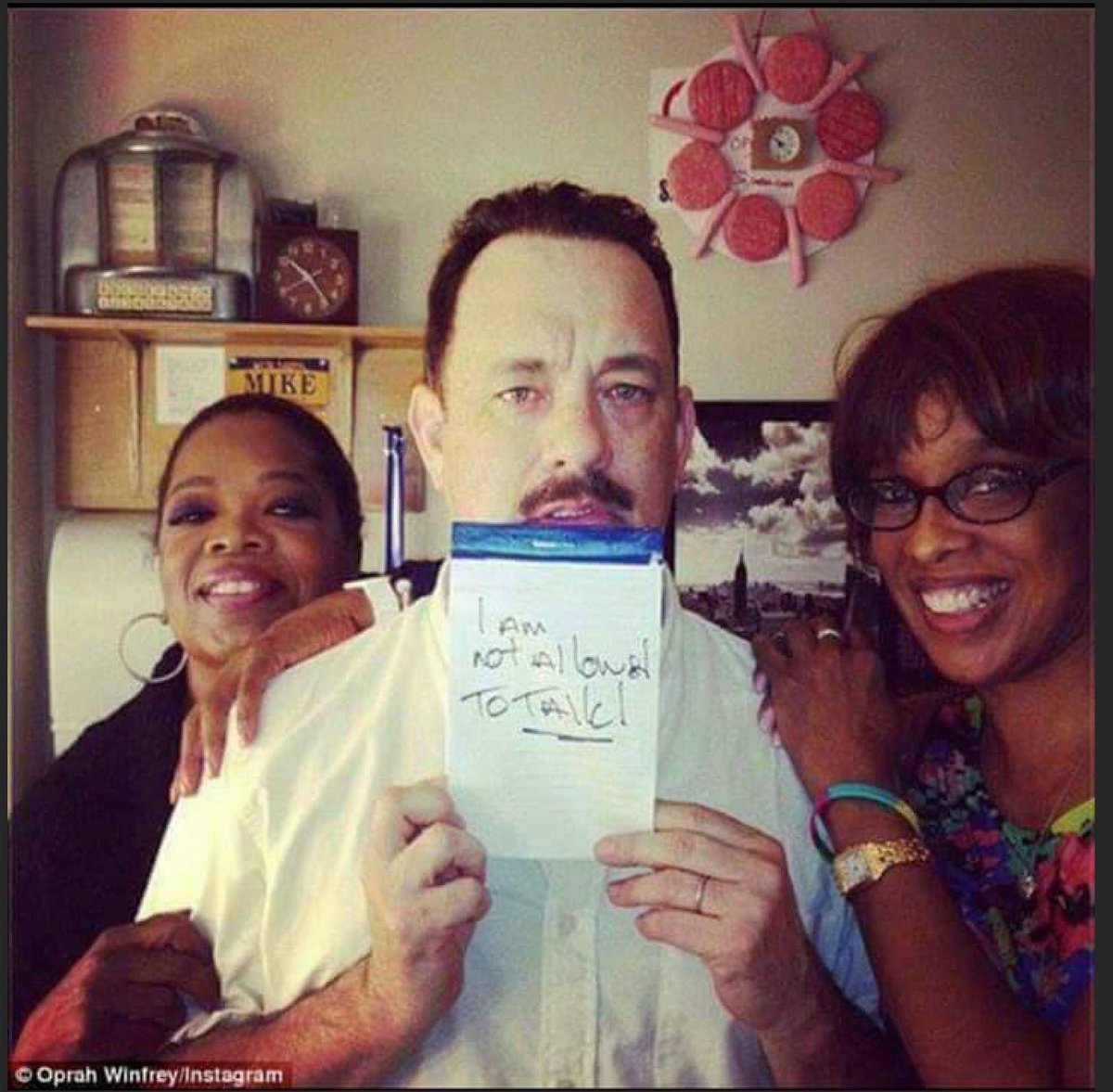 This too is considered by many to be humor today, but after hearing the serious allegations regarding Tom Hanks, is it?
And then there is this little known story covered up by the mainstream news media regarding Hillary Clinton along with her powerful friends and business associates regarding disturbing artists and artwork…….
To make matters worse, Hillary Clinton, Huma Abedin and John and Tony Podesta appear to be either linked to or associated with, if not friends with, artists involved in the depiction or presentation of what can only be described as pedophilic and/or satanic artwork. 
Tony Podesta's love of art……………….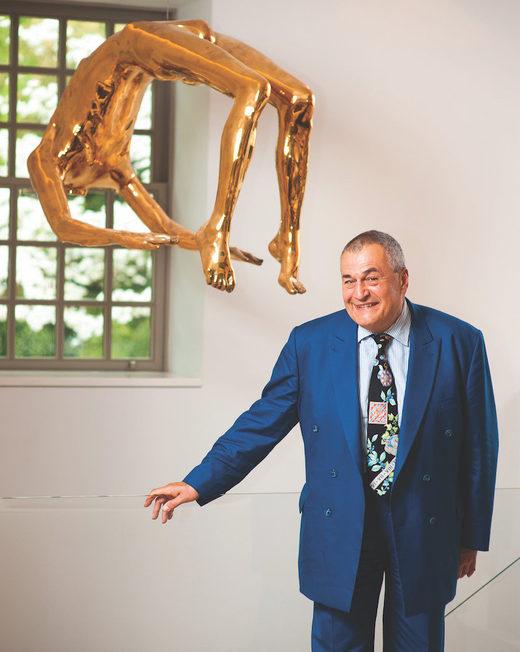 And this…..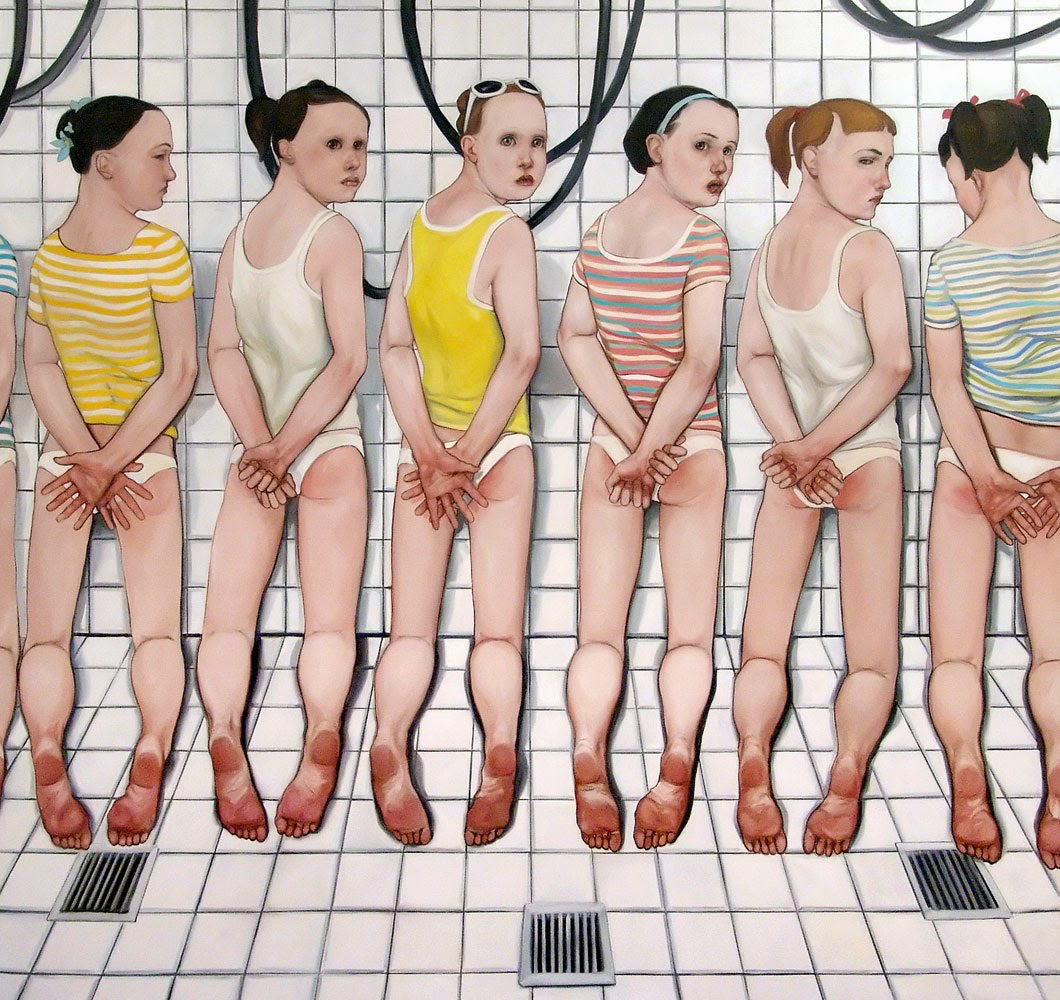 And this….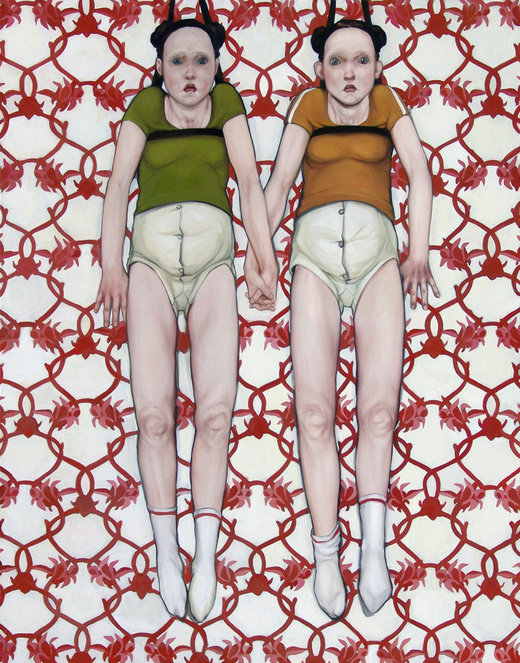 For any of you who believe that what is depicted above or in the following videos and articles below is progress then American and European society is simply DOOMED!
And…. If you still don't believe me ……..
……And if you were already disturbed enough, be prepared, many of  the following videos and articles are equally if not more offensive. Then again, I'll let you be the judge?
Afterall, too many left-leaning people in our society consider the following lifestyles and stories PROGRESS in this NEW and STRANGE AMERICA! 
Excerpt from an article I found in: Small Joys:
"A mom and dad are preparing for total transformation as both are set to have gender reassignment operations.
Nikki and Louise Draven, who are parents to 5-year-old Star Cloud, are planning to undergo the surgery. They want to be in their dream bodies before their son reaches ten years old."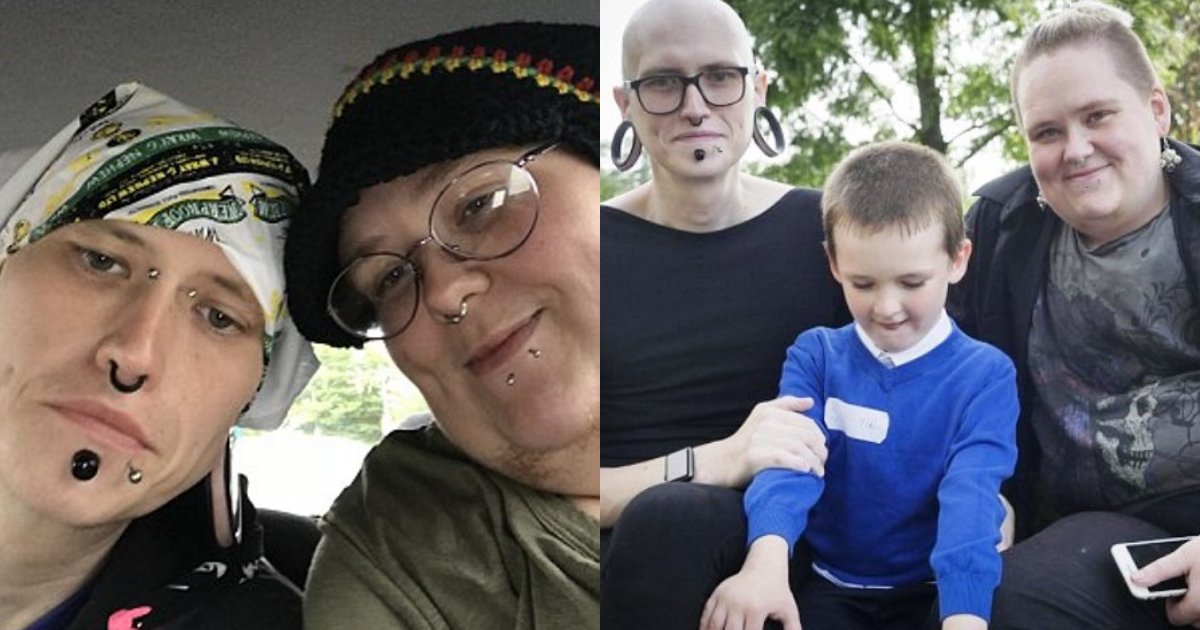 And, in my opinion, the following interviews irrefutably PROVE how our children and young adults are being INDOCTRINATED with LIBERALISM in our UNIVERSITY SYSTEM which is subsequently DESTROYING WESTERN CULTURE. Please Watch: Part One: There Are Only 2 Genders/Change My Mind:
Part One:
Part Two:
And this….. "Hate-Speech Laws" Under the Guise Of Misgendering People And/Or Not Identifying Them With The Right Pronoun May Soon Be A Crime In California And Elsewhere:
And, more supposed progress………
https://www.popsugar.com/moms/Potty-Mouthed-Princesses-Drop-F-Bombs-Feminism-Video-35969978
BRAVO to these BRAVE, feminist women exposing the OBVIOUS child abuse STRATEGICALLY called TRANSGENDERISM, and how it is leading to the COLLAPSE OF WESTERN CIVILIZATION. It appears they agree with me: the LGBT Movement is an AGENDA? You decide………….
And, this too from Hollywood, of course……….
Ruby Rose quit Twitter after her critics claimed she wasn't LGBT enough to play a lesbian Batwoman. The real issues are the lack of LGBT representation and roles for out actors.
And this, too………….
And this……
Twenty-Three MLB Teams to have LGBT Pride Nights at their Stadiums in 2018………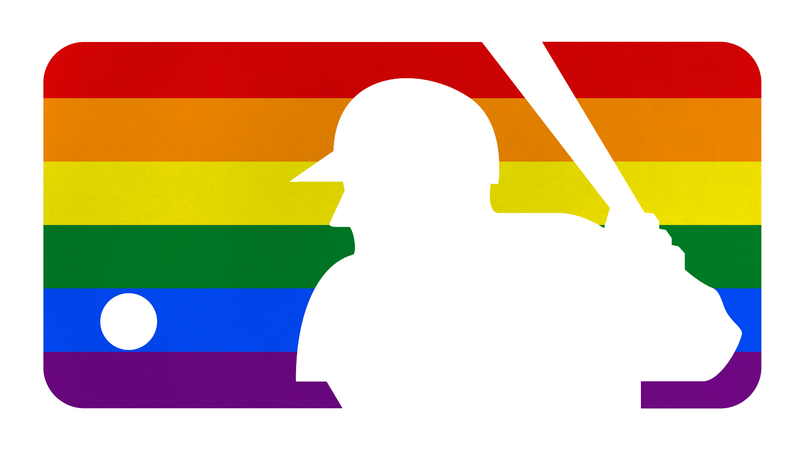 May 9, 2018 (LifeSiteNews) — "Twenty-three of Major League Baseball's 30 teams are slated to host LGBT "pride nights" in 2018, leaving just two teams that have never officially celebrated homosexuality."
Although I am not against gay or transgender people– by any means– and I don't care what people do behind closed doors as long as they are not hurting children or anyone else, I can't help but think that there might be an agenda behind the fairly recent and strong push for LGBT acceptance throughout our communities and country as a whole.
Why do I think this? Because of the following: besides Major League Baseball honoring the LGBT community, the city I reside in, Concord, also had a ceremony which I attended on June 1st in honor of the LGBT community where city officials raised a Rainbow Coalition flag which flew the entire month of June at the Civic Center next to the American and California flags. Why? Because the City Manager, Mayor and four other City Council members decided to usurp the power from the public and voted on a resolution behind closed doors to do so.
Interestingly, during the course of Concord Mayor Ed Birsan's entire speech praising the LGBT community while wearing a multi-colored LGBT rainbow hat, he spoke about how flying the LGBT flag represented acceptance and "inclusion" for not only the LGBT community, but for everyone in Concord, along with how it was each citizen's civic duty to ensure this be done.
The irony of his statement is the following: how "inclusionary" is it when he and his fellow council members pass a resolution at the "exclusion" of a public vote and how is it that it is everyone's civic duty to ensure that the LGBT community be honored along with accepting the rainbow flag be flown? Based on his logic, will all other groups of people who want representation for their specific cause now be allowed to fly their flag for  solidarity and recognition in Concord? If so, where will this need for "inclusiveness" stop?
Also, why does the mayor think he can speak for all residents of Concord when he says "it is each citizen's civic duty to ensure this be done?" On the contrary, we have no civic duty or obligation to accept this flag and I truly believe the vast majority of residents, if given a vote, would have voted NO on flying it and/or any other flag for any other cause for that matter!
Either way, at least allow the public to have a vote in these matters!
As a side note: One of Congressman Mark DeSaulnier's personal representatives  attended the Rainbow Coalition flag raising and was identified and warmly welcomed by Mayor Ed Birsan.
Please note: Mr. DeSaulnier as a senator in 2011 was a key vote on SB48 which made mandatory the teaching of homosexual and transgender history in the public school system K-12.
Also, it appears that only cities run by Democrats are promoting the LGBT issue. Why is this?
And what about this story……..
The Boy Scouts of America— after 108 years in operation– just recently announced their decision to change their name to make their organization more "inclusive" to all people no matter their sexual designation. In other words, they are now gender-neutral and their new title is: Scouts of America.
Now back to Concord…….
By the way, this isn't the first time that the Mayor and his fellow City Council members have passed a controversial resolution without allowing the public to vote on it. Months ago they designated Concord a Sanctuary City and most people I speak to on all sides of the political aisle aren't happy about it!  I know I'm not! Sadly, this is the American "Democracy" we live under today!
We deserve better and we should demand that our voices be heard by voting out every city, state and federal representative who does not have their constituents best interests in mind! Let's start with Mr. DeSaulnier!
If we don't heed this warning, the following will be our FUTURE:
http://www.dailymail.co.uk/news/article-5073601/Transgender-lessons-2-year-olds.html
And this….
And this too…..
And a children's show aptly called: "Queer Kid Stuff."
http://www.dailymail.co.uk/video/news/video-1638896/Video-Drag-Queens-attend-schools-World-Book-Day-teach-LGBT-tolerance.html
And….. the following books about gay or transgender lifestyles being taught in schools to children as young as two years of age:
If these books are NOT a form of indoctrination, then WHAT truly IS?
The following is the definition of INDOCTRINATION:
noun
the process of teaching a person or group to accept a set of beliefs uncritically.

"I would never subject children to religious indoctrination"
Notice how they used the term "religious" in the definition of indoctrination? Can you imagine if "I" simply replaced "religious" with the term "gay" or "transgender" what the consequence or outcry would be for me in the eyes and minds of many people?
Fact: I would be considered homophobic, hateful, etc., although I am absolutely NOT! Funny how knocking or mocking religion is A-OK and accepted in left-leaning America and much of the world today, but simply questioning the gay or transgender AGENDA is completely off-limits!
Anybody else see the glaring AGENDA, double standard and hypocrisy like I do?   
Also, a MUST LISTEN TO interview to understand the lunacy of this obvious social-engineering AGENDA to destroy our society:
And more debauchery…….
Artist, Marina Abramovic is at the least an acquaintance of John and Tony Podesta and has been linked to Hillary Clinton and Huma Abedin through emails from Wikileaks. The question begs to be asked: WHY are they acquaintances?
The following is a quote from an article in The Guardian, Dated: November, 04, 2016, Reporter: Benjamin Lee
"In a leaked email between Clinton's campaign chairman, John Podesta, and his brother, Tony Podesta, an invitation from Abramović is forwarded. It reads:
"I am so looking forward to the Spirit Cooking dinner at my place. Do you think you will be able to let me know if your brother is joining?"
The article goes on to quote the following:
"On the wall in his office at Hillary Clinton's Brooklyn headquarters, campaign chairman John Podesta has an oil painting on loan from his lobbyist brother, who is an avid art collector. The image shows two men hunched over a dining room table, bearing knives and forks. On the table lays a man in a suit, who looks vaguely like Podesta. "It's better to be the guy with the fork," Podesta quips to his colleagues, if they ask about the image, "than the guy on the table."
The following video depicts satanic "Spirit Cooking" with John Podesta Acquaintance, Marina Abramovic: 
Why are some of the most powerful people in Washington, D.C. along with many stars in Hollywood and the Music Industry corresponding with or friends with obvious degenerates and satanists such as Ms. Abramovic?
Beyonce standing near Marina Abramovic's table……..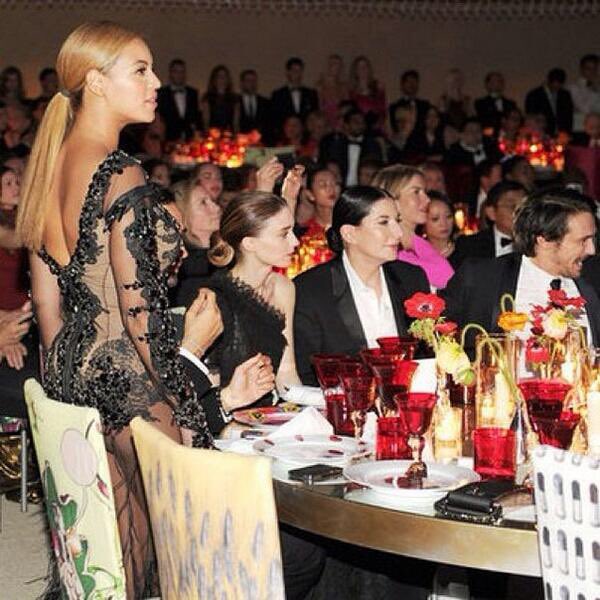 Jay Z with Ms. Abramovic……….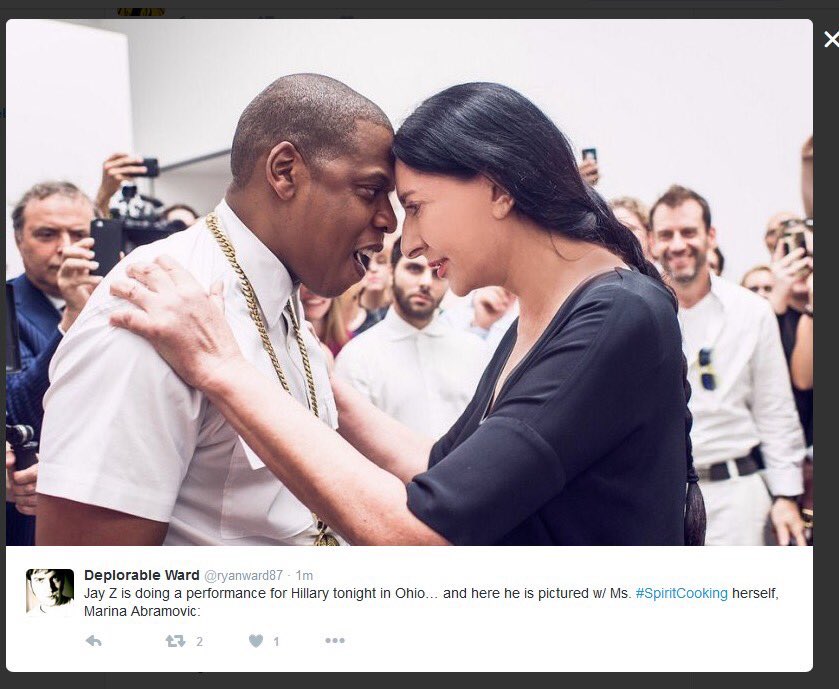 Lady GaGa at Marina Abramovic's Spirit Cooking Event licking a spoon…….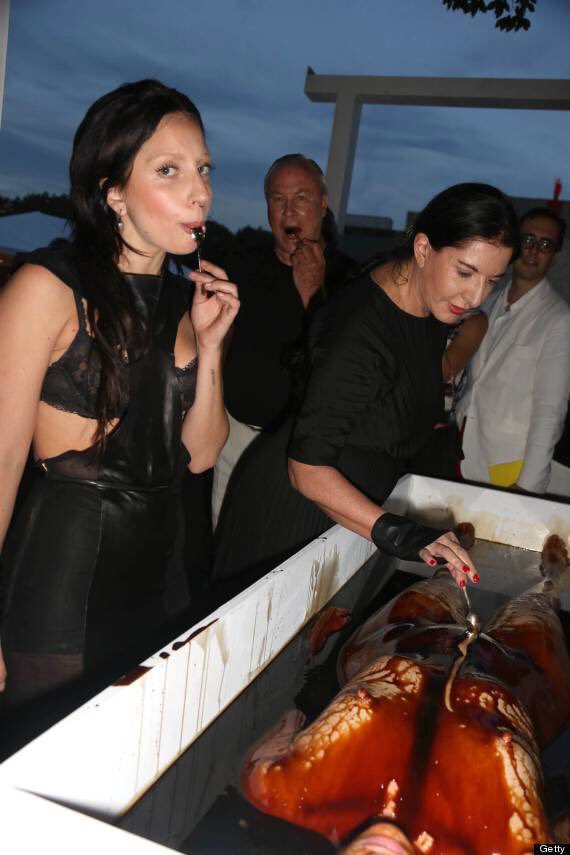 And if ALL of that wasn't enough, please read the following link regarding Bill Clinton's friendship with billionnaire and convicted pedophile, Jeffrey Epstein, and his flights on Epstein's plane, "The Lolita Express," to his SEX ISLAND where underage girls were kept as toys for his many other rich and powerful clients.
Or this from an article in the Disobedient Media, dated January 25, 2017, Reporter: William Craddick:
The Clinton-Silsby Trafficking Scandal And How The Media Covered It Up
Or this disturbing and extremely compelling documentary of U.S. Government child sex trafficking from decades ago, The Franklin Cover-up, which was to air on the DISCOVERY CHANNEL in 1995, but was cancelled hours before it was to be aired. It reveals a U.S. Government child sex abuse and pedophilia ring that leads to the highest levels of government. Featuring intrepid investigator and highly decorated Vietnam war veteran and 16-year Nebraska state senator, John DeCamp, Conspiracy of Silence reveals how rogue elements at all levels of government have been involved in systematic child sex abuse and pedophilia to feed the base desires of key politicians who, unbeknownst to them, are purposely compromised on video and in pictures so they can subsequently be controlled through blackmail.  
And this very disturbing, yet revealing documentary from 1981…..Boys For Sale: 
Again, people better WAKE-UP and realize that if we allow society to deteriorate further, we are literally paving the way for our own and guaranteed destruction.
Who's is behind all this degenerative material debasing our youth and society as a whole? The same group of people who produce and control the PORN industry!
In fact, they are the same group of people who produce and control ALL of HOLLYWOOD and sponsor degenerate people like Larry David and Sarah Silverman who are lauded with praise for their efforts to debase and defile American youth and society in the following Jewish publication:
HAARETZ, February 03, 2014, Reporter: Josh Lambert:
"Brilliant actors like Larry David and Sarah Silverman are challenging America's powerful religious, family-friendly culture and asserting their Jewishness by glorifying obscenity."
This is a video depicting Larry David peeing on a picture of Jesus Christ:
The following video is of comedian Sarah Silverman on stage stating that she would "kill Christ Again" if he should return:
This passes as humor today!
Don't you believe our children deserve better? 
Fact is: If this madness doesn't STOP our children and families will truly have NO future!
And, what about this, too…………
The United Nations Partners With Planned Parenthood To Sexualize Our children In Public Schools
First and foremost, I have nothing against people who are gay, transgender or otherwise, and what people do behind closed doors is their own business. My only issue is with those who are pushing this lifestyle on the most impressionable and innocent in our society: our children! Recently, there has been a HUGE push to normalize and promote  homosexuality and transgender life-styles and many, including myself, have wondered how and why this very small segment of society has become such a pervasive and powerful force in the U.S. and elsewhere throughout the world? The following videos and articles should help you in your quest to answer these questions. They helped me!
Please WATCH these short but POWERFUL videos and you will learn that this so-called "organic" movement is actually an orchestrated agenda implemented and pushed by the United Nations with help from Public School Administrators, Government officials and Planned Parenthood. Sadly, their goal is to sexualize our children through the public school system's "Safe Schools" and make billions of dollars doing so from the unsuspecting public at large.
Also, as many of you now know, the Boy Scouts of America is now changing their name to the "Gender-Neutral Scouts."
As I have been stressing for many years: communist elements within our Government are quickly eroding our European and Christian culture/values–not to mention our very way of life– by way of social-engineering. The use and implementation of the feel-good term: "inclusiveness" is simply used to further erode our society by emasculating our youth and making everyone and everything "gender neutral." It is also evident to me that this agenda is being thrust upon us at breakneck speed.
One by one, icons of Americana are being replaced with Marxist ideology and traditions. First in 1989, after Jewish groups protested and won a decision in federal court calling for the banning of all Christian symbols on state and federal land, a federal law was passed and, consequently, all Christian symbols were removed forever. This even included the cross and nativity scene that had stood on the expansive lawn across from the White House lawn since 1789. Yet, ironically, since the passing of this law in 1989, a 39 foot menora has taken the place of the cross and is now erected each Christmas since. Again, why?
Also, how many gender identifications do we need before people wake-up to this absolute assault on our values and, moreso, on our children, young adults and society as a whole? Fact: there are now will over twenty designations and counting. Again, why? And why do we have television shows promoting transgender lifestyles like on HBO's hit show: "Transparent" linked below? Coincidental? No!
To make matters worse, as recently as 2011, when Mark DeSaulnier was a senator, he voted yes on SB48 which mandated that public schools teach K-12 students homosexula/transgender history at the same time church and God are no longer allowed to be mentioned. To make matters worse, just recently, many statues or symbols of our Founding Fathers along with Civil War Generals have been removed by these same organizations.
Now the Boy Scouts of America has been purged and emasculated much like everything else in our society. Read and weep and then vote out Mark DeSaulnier who– I guarantee– is all for everything I have mentioned above.  
Fact: Mr. DeSaulnier always cites and quotes historical events in his stump speeches and otherwise. His major in college was history, yet below is a history lesson that I guarantee you he does not want you to know about until it is too late. 
Why can't we relive those times when television shows like the following were viewed by ALL family members in our homes:
Father Knows Best
Leave It To Beaver
The Andy Griffith Show
The Walton's
Little House On The Prarie
And so many other wholesome and intelligent shows?
I truly MISS those INNOCENT and WONDERFUL days!
DON'T YOU?
And these little tidbits in the United Kingdom……….
The Washington Post: Terrence McCoy, June 27, 2014: How BBC star Jimmy Savile allegedly got away with abusing 500 children and sex with dead bodies
And, this……..
And, this too…….
And….again………..would you agree, there seems to be a pattern?
So….why has our Government along with the UN been so quiet on the terrible and inhumane sexual abuse and rape of primarily young white girls at the hands of Pakistani grooming gangs in Britain?
And, why….. are the victims and authorities so careful not to identify the perpetrators as being of Pakistani descent? 
Direct quotes as to why people are reluctant to do so………
"Several staff described their nervousness about identifying the ethnic origins of perpetrators for fear of being thought as racist; others remembered clear direction from their managers not to do so."
"Nobody is saying that all Muslims commit abuse, but by saying it's not an issue you're silencing the victims," she added.
"We didn't want there to be a pattern of people from our ethnic demographic carrying out these attacks. But unfortunately we were proven wrong."
Would you agree…… that there seems to be a terribly disturbing pattern?
And…… where is the outrage from Congressman Mark DeSaulnier along with ALL other US Congressional leaders and why are they not "shouting from the rooftops" demanding UN investigations under Human Rights Violations for the decades long abuses of these innocent children?
And for those of you who believe….. mass-immigration or forced-multiculturalism is an "inclusive" and culturally good and beneficial need in our once primarily ethnic European societies, please watch the following  video and then read the article and you just may rethink your position!
The Spectator: Ivar Arpi Report: January 16, 2016
Stockholm police were warned not to give descriptions of the perpetrators lest they were accused of being racist
And this……..
Sky News: December 10, 2017: Article Written By: Sally Lockwood, North of England Correspondent
British-Pakistani researchers have found that 84% of all people convicted since 2005 for the specific crime of gang grooming were Asian.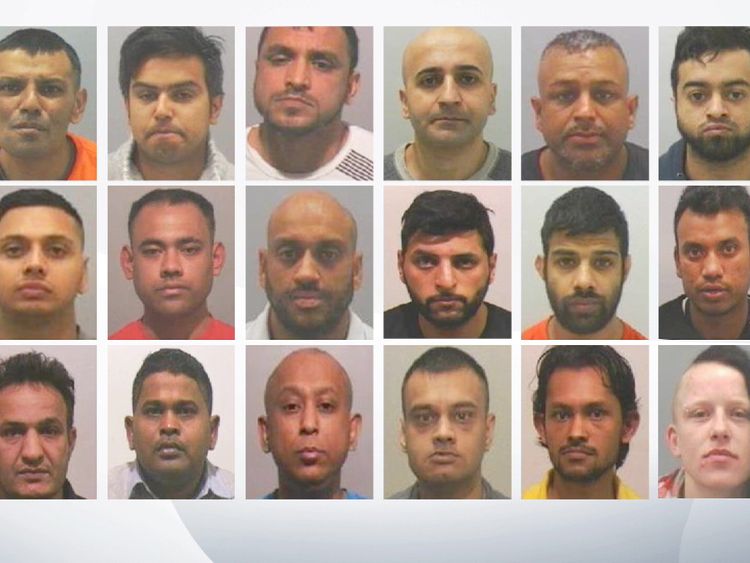 A think-tank report finds there is a demographic link to those who sexually exploit children in grooming gangs.
Quilliam's researchers found 264 people have been convicted for the specific crime of gang grooming since 2005
Of those offenders 222 or 84% were Asian.
BBC NEWS: March 13, 2018:Telford grooming 'tip of the iceberg', says solicitor
"She is one of probably, one of thousands of young girls and young boys who are being abused in street grooming up and down the country."
A Sunday Mirror investigation said the scale of sexual exploitation in Telford made it the UK's "worst-ever child grooming scandal".
The paper claimed abuse in the town has been widespread since 1980, when it began with "groups of mainly Asian men" targeting vulnerable white teenagers.
BBC NEWS: August 26, 2014: Rotherham, England child abuse scandal: 1,400 children exploited.
Direct Quotes From The Article are the Following:
"It lays out how Rotherham Council and the police knew about the level of child sexual exploitation in the town, but didn't do anything about it."
"The report estimates 1,400 children were sexually exploited over 16 years, with one young person telling the report's author that gang rape was a usual part of growing up in Rotherham."
"Speaking about her abuser, Isabel said: "I think because the police were aware and social services were aware and he knew that and they still didn't stop him it I think it encouraged him."
"It's deeply distressing how the authorities failed to protect these young people and their voices were not heard."
"However, that must not overshadow – and certainly does not excuse – the finding that for a significant amount of time the council and its partners could and should have done more to protect young people from what must be one of the most horrific forms of abuse imaginable."
The vast amount of information I have linked above proves beyond a doubt that pedophilia is endemic and systemic in our society. Even more appalling is the fact that very few people have the courage to expose this ugly and disturbing truth!
I am not one of those people!
I hope you will do the same by telling others so we can have a "Me Too Movement" for hundreds of thousands if not millions of abused children around the world whose voices and cries for HELP go unheard because too many people remain silent!
Otherwise, we are ALL accomplices in this most destructive and hideous of crimes!