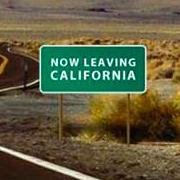 Why are 50% of Bay Area residents hoping to leave the region or CA?
The following is a direct quote from Congressman Mark DeSaulnier regarding one of his TOP PRIORITIES in CA:
"Invest in critical projects to reduce traffic congestion in the Bay Area, and improve housing options."
When he says "invest in criticaI projects to reduce traffic congestion," I guess he means through building the following:
 an additional 12,500 homes estimated to be built as part of the Concord Community Reuse Project in the former Naval Weapons Station which will add:
an additional 50,000 residents to Concord's already strained infrastructure including roadways and Highway 4.  This doesn't even take into account:
an additional 1,500 homes slated to be built by Seeno Construction that is contracted to be built above the Former Naval Weapons Station. This development will add:
an aditional 12,000 residents to Concord. Combined, that is:
62,000 more residents living in Concord, 

which is half of the city's current population!
Yikes! How is that going to mitigate traffic congestion, Mr. DeSaulnier? 
Continue reading "New Poll: 50% Of Bay Area Resident's Say They Want To Move Out Of The Region Or State"